Mollusk's Farscape Makes Me Think Pages
Characters: Rygel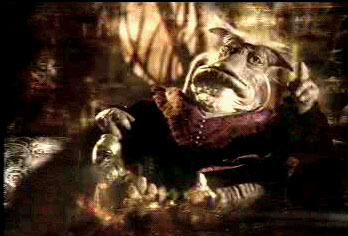 Rygel plays a part similar to the rich buffoon on Gilligan's Island. His attempts to preserve his dignity as the sovereign of a vast interplanetary empire in the midst of all that goes on is raucously laughable. His relentlessly superior behavior, particularly in light of his diminutive size and standing among the rest of the crew make him the butt of many well earned gabs.
Technically his performance is one of the more stunning of the program since a range of emotional situations are handled by what is essentially a mechanically enhanced puppet.
---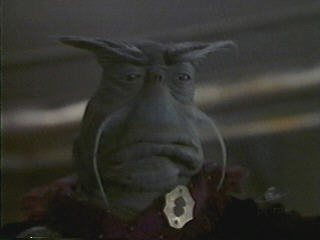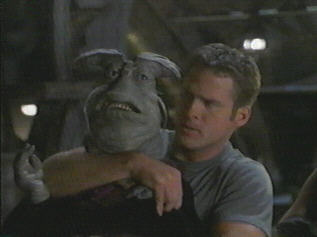 Rygel plays a large part in the Durka Returns episode, confronting Durka, and in the first scene when they meet struggling with Crichton. In the scene where he is confronted by Aeryn early on, and in the aftermath of his sneak attack on Durka, Rygel shows a range of emotions as he deals with his situation: sharing a ship with the man who originally tortured him when he was first imprisoned. The scene with Crichton holding Rygel back from Durka came off well, but looks like it must have been incredibly difficult to pull off. Making a struggle with a puppet look at all real must be a major challenge.
---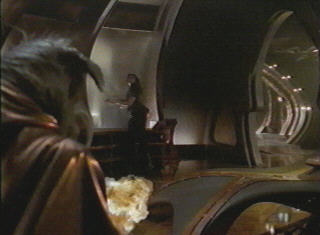 After detecting explosions in Rygel's quarters Aeryn investigates and finds Rygel spewing fire.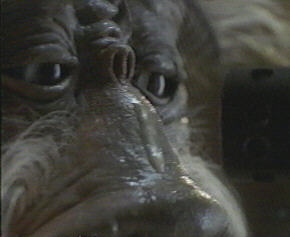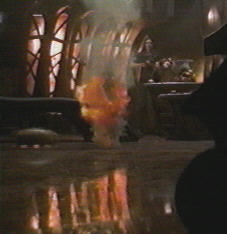 It turns out that Rygel's body fluids have become explosive. Terribly amusing, of course, but damaging to Moya and Rygel and anyone else in the vicinity. So Rygel is frozen, and with Crichton and the rest on the surface of the planet it is up to Aeryn to conduct the necessary scientific investigation of the cause and the cure of this phenomena.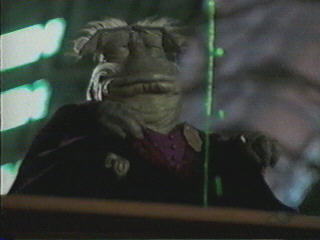 Needless to say, the end of that episode comes as a great relief to everyone.




[Aeryn] [Chiana] [Crichton] [D'Argo] [Rygel] [Zhaan] [Episodes: Jeremia Crichton] [Episodes: Durka Returns] [Moya] [Peacekeepers] [Places] [Swamp] [Implosions] [The Flax] [Opinions] [Special Rules]
Main: [Disclaimer] [Bibble] [Gay] [Quotes] [Farscape] [Misc] [Links] [Mollusk] [Map]
The Bibble Pages, Christian Molick, mollusk@bibble.org